We're the proud winner of two awards in the Maternity & Infant Awards 2016. We won the award for Best Innovative Learning Initiative, as well as winning Silver for Best Indoor Learning Experience. In both 2015 and 2013 we won Best Creche of the Year, as well as being a finalist in 2014.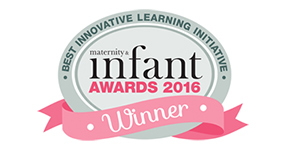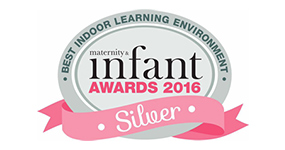 "This award goes to the Forest School Experience at Kilminchy School House in Portlaoise. This learning initiative provides a wealth of different opportunities for play, learning and development. It introduces children to a wilder environment, where nature has to be responded to with respect. The follow through back in the classroom brings the forest school memories and materials into imaginative use."
Imelda Graham, Researcher and Author of 'Spaces to be Me: Quality Environments in Early Years Services'
Maternity & Infant Awards, 14.10.2016
"Forest Schools are new to Ireland, although well-used in the UK and other countries. The concept of a forest school is more than being out-of-doors, it brings children to a wilder environment, where nature has to be responded to with respect, and provides a wealth of different opportunities for play, learning, development, including risky play which is of such benefit to the children in combatting phobias and developing confidence. Kilminchy School House is an excellent example of this and a highly impressive project. The follow through back in the classroom is to be commended and brings the forest school memories and materials into imaginative use. The outcomes for the children of this experience extend beyond gross motor skills to encompass many aspects of competence and confidence, and provide such memorable experiences on their trips. Kilminchy School House have demonstrated an innovative and effective approach to early education."
Judging Panel:
Peter Gray, Research Professor at Boston College and world expert on the evolution of play and self-directed learning
Imelda Graham, a Learning Specialist, Researcher and Author of 'Spaces to be Me:Quality Environments in Early Years Services'
Brid Hickey, Early Years Specialist and strong advocate of Inclusive early education
Ruth Charles, Dietitian (paediatrics), owner of Nutrikids and regular contributor to ratio Newstalk and RTE
Maternity & Infant Awards, 14.10.2016
See commendations for previous Maternity & Infant Awards...
2016
Hayley Horohan's first year over in Play School and will see you again next year. You all do such a fantastic job in Kilminchy school. Both Callum and Hayley have loved every moment of it and all you do with the children's activities - gardening etc - all great learning curve. Thank you all so much. We shall see you after the Summer!
Tara Horohan, 10 June 2016
"The best creche in the world!"
Jeremy Zalewski, June 2016
All I can say is KSH has been a home away from home for Grace for the past three years and to our other daughters over the past nine years. I couldn't recommend this school highly enough. As I have said before, you are fantastic role models and I am sure Grace will cherish her memories for ever. Thank you to Sonya and staff for everything. Great show too!!
Maria and Paul Cuddy, 17 June 2016
The show was brilliant. My family and Kamsi are thankful for all the fabulous times she had in your school and helping her develop into a wonderful girl. I thank all the staff of KSH for all your support and hard work towards Kamsi. Thank you so much xxx
Kamsi & family, 10 June 2016
Thank you all so much for all your love and support to Craig over the Past four and a half years. Craig had a ball!
Linda Dunne, 17 June 2016
This is our last year in KSH, Zeenat my last child. Simone and Jannet also went here. Love all the staff. Thanks for everything.
Charlotte Chaudhry, 10 June 2016
Thank you all so much for a wonderful two years of full time care. Amy had a great time and it is a credit to you all.
Gordan and Ailish O'Neill, 10 June 2016
Go raibh Mile Maith do gach uile duine i KSH. You all do such sterling work!
Carol Devaney, June 2016
Just wanted to thank you for giving Millie and her family an amazing year with wonderful memories. She loved her year with you and we will definitely be sending her little sister your way. Thank you xx.
Keogh family, 10 June 2016
Just wanted to say thank you to everyone at KSH. You have all been amazing to Alex and Jack this year.
Siobhan Syder, 10 June 2016
Thank you all in KSH for being so good to John throughout his time with you. We can't believe how confident he has become and we know this is owing to the thought and care you put into all he did during the year. It means the world to us.
Olivia A'Hare, 10 June 2016
We have no words to thank you all for all the fabulous work you have done towards David's development from how he was in Sept 2015 to how he is today. Your one to one attention, your special love, care and concern you have shown him was reflected every day. Academically, you have covered so much when comparing with other play schools. He is so fortunate and lucky. Thanks for all the trips you had arranged and taken David. We are sure something would have got into his head out of it all. Our daughter, aged 10, had never been to any trip either in play school or school. We all envy David. Also we appreciate all the different kinds of play you have involved in their daily activities. Thanks for the newsletter which gives us an idea of what is taught to him. Also, you have never said no when we requested for David to be minded for extra hours. Thanks for that great help. A SPECIAL THANKS to Sonya for spending time to send pictures regularly in whatsapp. We were always so excited to see them. Your team work and hard labour has been so rewarding. You are the best. The smiles on all your faces will remain in our memory. We will miss you all. Thank God David got his best. We wish that KSH still grows to a greater height. Best of luck. Thank you all once again.
Julian & Jacinth (David's Dad & Mum), 17 June 2016
2015
"To the amazing girls here, I'm very sad to say tomorrow is Sean and Jamie's last day. It's been a wonderful 2.5 years, they've grown into 2 independent little men and are bursting with knowledge for big school in sept!!
KSH comes highly recommended from Alan and Vikki Mulhall, 13 June 2015
"I cannot recommend this school enough. I had my son there in after school and my daughter in Playschool and full time care for a time. The amount of activities and practical learning that the children do is amazing. My daughter had a magical and memorable experience there and I cannot wait for my other little girl to go there too."
Michelle Brosnan, June 2015
"Excellent. All the staff are so wonderful, bubbly and positive. I would 100% recommend it for your children."
Lydia Hayles, 14 June 2015
"Wonderful school with wonderful staff, some great memories for the kids."
Sharon Conway Hayes, June 2015
"Full stars for the best creche and Montessori school in Ireland. Fantastic staff."
Martin Mc Donald, 12 June 2015
"Dear Sonya and all the staff of Kilminchy School House, thank you for helping to make Pre-school such a positive experience for David. With all of your patience, creativity and love, David has achieved a lot this year. He has started off on the right foot by having you all as his teachers. Thank you all because you have make a great difference for all of our children, because you care so much about them. You have directed them to trust themselves in all that they do and to become all that they dream.
The activities you plan, the rooms you decorate, the friendship you help foster -- it's incredible , and it has helped David believe that school is fun, which is incredibly important.
Thank you for creating an environment of enthusiasm for learning, appreciation for growing, and room for making mistakes along the way. We had a few toilet accidents along the way but you helped David get over them. Our family is grateful to have you as a guide, leading by example. You are all awesome. You are amazing. You all are making a difference, even if it is only in the background where very few see it. You are making the future and the world. Thank you. We thank you, Teachers! Keep on Teaching."
David Kalu's Family, 19 June 2015
"To all the staff, thank you for shaping Ciara's future by being part of her childhood. Ciara has really enjoyed her time here and has made lots of friends. It's a credit to all your team for all the hard work and dedication that you give to each and every child. Long may it continue! We are going to miss you!."
Margaret & John Burke
"Thank you for all you hardwork and funtimes!. Ava-Mae has had a brilliant time and thoroughly enjoyed being with you all! All prepared for big school now!"
Ava-Mae's Family
"Thank you all so much for the wonderful care and love and kindness throughout the year. Jamie Hayles will miss you so much."
Jamie Hayles' Family
[ Read Testimonials 2019-2020 ] |[ Read Testimonials 2017-2018 ] |[ Read Testimonials 2015-2016 ] | [ Read Testimonials 2014 & before ]