Kilminchy School House Portlaoise is a nurturing learning environment where children are encouraged to creatively explore their world. We will provide a unique opportunity for your child to develop:
"I hear and I forget
I see and I remember
I do and I understand."
Kilminchy School House Portlaoise is currently the only Certified Montessori School in Portlaoise. KSH is recognised for the highest quality and best practice in Montessori under the EOCP by St. Nicholas Montessori College.
KSH is a privately run Montessori School and Day Care Centre, and is open virtually all year round to facilitate parents needs.
KSH has been operating since September 1999 and currently provides Montessori Sessional and Full Day Care in addition to other activities for children from one year to five and a half years.
- Wobbler / Toddler
- Montessori Playgroup
- Advanced Montessori part-time
- Afternoon Playgroup / Montessori Session
- After School Care up to 9-10 years
- Kinder-Drama
Department Of Education & Skills - EARLY YEARS EDUCATION INSPECTION
We were awarded Excellent in all areas by the Department of Education and Skills in their Early Years Education-focused Inspection in November 2016.
View the DES Early-Years Education-focused Inspection Report 2016 (PDF).
Tusla Early Years - PRE-SCHOOL INSPECTION
View the TUSLA Early Years Pre-School Inspection Report September 2022 (PDF).
FREE PLAY SCHOOL YEAR
We are currently enrolling for the ECCE Scheme (FREE PLAY SCHOOL) Year for Sept 2023. We have limited spaces for the ECCE afternoon class and priority is given to full daycare and part-time children. We also offer the National Childcare Scheme (NCS).
What is the ECCE scheme? The Early Childhood Care and Education (ECCE) Scheme provides early childhood care and education for children of pre-school age. From September 2018, children can participate in the ECCE scheme from 2 years 8 months of age and continue until they transfer to primary school (provided that they are not older than 5 years and 6 months at the end of the pre-school year). There will be only one entry point to the ECCE scheme from September 2018. Children must be 2 years 8 months by September to start on the ECCE scheme. For more information and details of eligibility please click here.
More details are also available from the Citizens Information - ECCE Scheme webpage. The Department of Education's ECCE Scheme eligibility calendar provides information on when your child can participate in the ECCE programme.
HOURS & FEES
Kilminchy School House offers a variety of timings to suit individual needs. A list of these timings and fees are available on request.
To make an appointment or if you would like any further information on our school, please contact us using the details below or fill in our online form.
VISIT US
Prospective parents are welcome to visit the School House by appointment.
Maternity & Infant Awards
WINNER 2016, 2015 & 2013
FINALIST 2014
We're the proud winner of two awards in the Maternity & Infant Awards 2016. We won Best Innovative Learning Initiative and we were awarded Silver for the Best Indoor Learning Environment. Read what they said about us, having also won in 2015 and 2013, as well as being a finalist in 2014.

All-Ireland Business Foundation (AIBF) - FELLOWSHIP 2022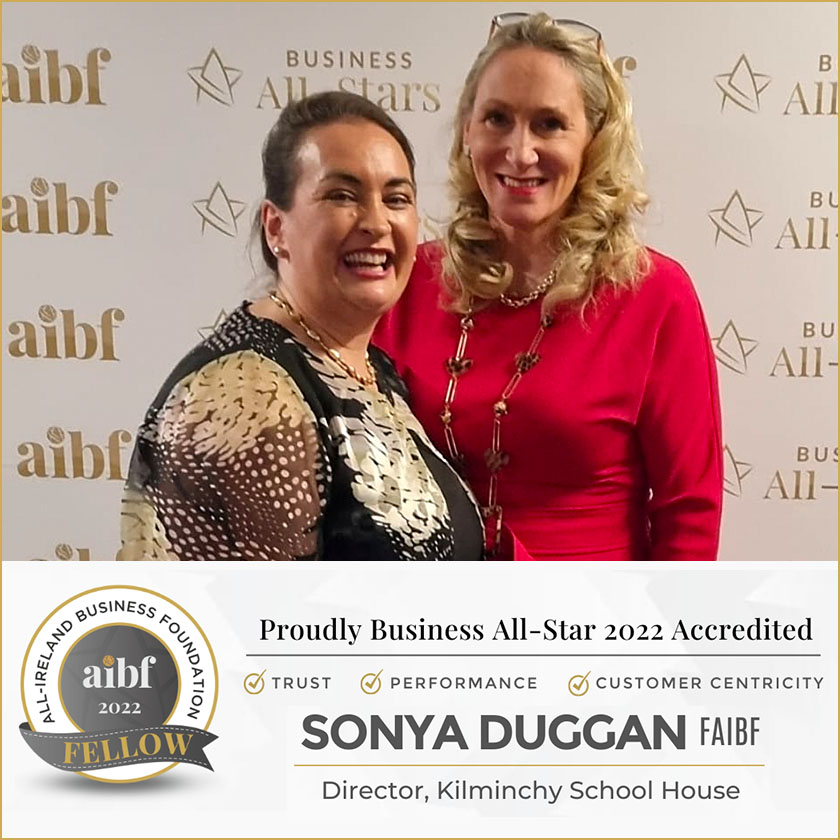 I was humbled and honoured to have been admitted as a Fellow of the All-Ireland Business Foundation (FAIBF) in December 2022, for "ongoing commitment to the highest standards of business excellence".
All-Ireland Business Foundation is an independent national body that identifies and acknowledges the country's most ambitious and visionary businesses. It is also the accreditation body for the Business All-Star mark.
The Foundation does incredible work in recognising outstanding Irish businesses, so I'm very honoured to be admitted as a Fellow.
Like my colleagues, I believe a robust, dynamic Early Years industry is crucial to an equitable society. As a Fellow, I will continue to highlight not just the challenges we face, but the innovations and initiatives that are needed to make it an industry that can attract and retain great people now and into the future. I would like to thank those who have contributed to this success, from my wonderful dedicated team of Educators; to the families within our services, whose trust and support are so important; to my fellow colleagues within the sector, for their camaraderie and support. You have all helped towards this accolade.
I'm excited to continue our work as part of The AIBF Register of Irish Business Excellence (TRIBE)."
Kilminchy School House - Business All-Star Accreditation, All-Ireland Business Times - View Profile
'Coming home: A teacher's journey from the Middle East to the Midlands', All-Ireland Business Times - View Article