We're the proud winner of two awards in the Maternity & Infant Awards 2016. We won the award for Best Innovative Learning Initiative, as well as winning Silver for Best Indoor Learning Experience. In both 2015 and 2013 we won Best Creche of the Year, as well as being a finalist in 2014.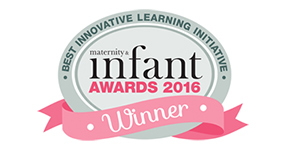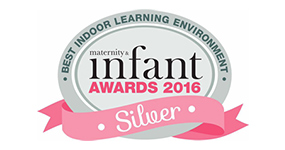 "This award goes to the Forest School Experience at Kilminchy School House in Portlaoise. This learning initiative provides a wealth of different opportunities for play, learning and development. It introduces children to a wilder environment, where nature has to be responded to with respect. The follow through back in the classroom brings the forest school memories and materials into imaginative use."
Imelda Graham, Researcher and Author of 'Spaces to be Me: Quality Environments in Early Years Services'
Maternity & Infant Awards, 14.10.2016
"Forest Schools are new to Ireland, although well-used in the UK and other countries. The concept of a forest school is more than being out-of-doors, it brings children to a wilder environment, where nature has to be responded to with respect, and provides a wealth of different opportunities for play, learning, development, including risky play which is of such benefit to the children in combatting phobias and developing confidence. Kilminchy School House is an excellent example of this and a highly impressive project. The follow through back in the classroom is to be commended and brings the forest school memories and materials into imaginative use. The outcomes for the children of this experience extend beyond gross motor skills to encompass many aspects of competence and confidence, and provide such memorable experiences on their trips. Kilminchy School House have demonstrated an innovative and effective approach to early education."
Judging Panel:
Peter Gray, Research Professor at Boston College and world expert on the evolution of play and self-directed learning
Imelda Graham, a Learning Specialist, Researcher and Author of 'Spaces to be Me:Quality Environments in Early Years Services'
Brid Hickey, Early Years Specialist and strong advocate of Inclusive early education
Ruth Charles, Dietitian (paediatrics), owner of Nutrikids and regular contributor to ratio Newstalk and RTE
Maternity & Infant Awards, 14.10.2016
See commendations for previous Maternity & Infant Awards...
2020
I would like to highlight the exceptional standards of childcare provided by Ms Sonya Duggan and her team at Kilminchy Schoolhouse, Portlaoise. Both my children have flourished under the child-centred ethos that KSH encourages. As both a mother and a consultant paediatrician, I have witnessed the exceptional standards of care that my children have received.
I would also like to highlight the leadership skills that Sonya has demonstrated during the unprecedented and challenging COVID-19 pandemic. Throughout the school closure she continued to update us all on a regular basis on plans for reopening and also provided online resources to engage our children in positive ways while they were seconded at home. She proceeded to reopen KSH in a calm and organized manner that reassured us as parents that our children would be safe and sound, as always, in her care. Indeed, the social and developmental benefits that KSH offers was highlighted to me even further as my children returned to KSH on June 29th and clearly blossomed and continue to reach their potential thanks to balance of freedom to explore and structured Aistear themes that the team follow.
I truly believe that wherever my children's lives take them, I will always be grateful for the exceptional start they had at KSH at this formative time in their lives. The unique environment nurtured by Sonya and her team has encouraged a curiosity, independence, kindness and consideration in my children that will light their way in the years ahead.
Dr Fiona Healy, MBBCh FRCPI MD, 16 July 2020
My three children have had the pleasure of attending Kilminchy School House since the eldest was two and the younger two were one year old and they love it so much. The place has a lovely homely feel and the staff are all so warm and welcoming that I know the care my children receive through the day is amazing and they run straight in every day as they can't wait to see what the teachers have planned for them. They have learned so much in their time there and have blossomed under the care and guidance of the staff as they have been allowed the freedom to be themselves and develop the skills required to go on to school. The confidence that it builds in the children from being in such a supportive and encouraging environment shines through and will only do them good as they move on to school and beyond.
What sets Kilminchy School House above other childcare facilities is not only the care they receive but also the extra experiences the children get to have. The fact that they encompass the forest school ethos was a big thing for me, as well as practicing in the school grounds they go above and beyond to take the groups to the forest and other places to learn outside the classroom and that is a real highlight for the children and one they learn so much from.
I think every child should have a Kilminchy School House to go to.
Lisa Walsh-Kemmis, July 2020
Sonya and her team have, without question, created a stimulating and creative child-centred environment where all children and parents are welcomed and respected. They support the children in a warm, caring and trustful manner which nurtures and develops their social and emotional growth.
In my opinion, Kilminchy School House excel in early childhood education and care. My three children have grown to become confident, competent learners; but more importantly they have developed a love of learning and sense of care and empathy because of the love, encouragement and invested effort by Sonya and her staff. I will be forever grateful to Kilminchy School House for providing my children which such a positive start to their life-long learning.
Claire Fitzgerald, July 2020
2019
Oh my goodness, words couldn't get across the joy we feel right now! Thanks so much to Sonya, Linda, Ellen and Chiara for an amazing journey at KSH. You are truly amazing and have helped and supported my three children Cillian, Conor and Daisy to blossom. They have gotten the best start in life from being at KSH. A really outstanding show today and a testament to all your hard work! Well Done. Daisy will miss you all so much.
Lorraine Callaghan, 14 June 2019
Many thanks for all your hard work and positive influence on our little kids and their development. We are taking with us fantastic memories from Kilminchy School House
The Blasiak Family, 14 June 2019
Thank you so very much Sonya and all you wonderful staff!, Will and Ellen loved every minute at KSH and I can't tell you what it means to be a parent! Congratulations on another fantastic show, you all really go above and beyond every year and we all appreciate it all so much! We will miss you all , thanks for all your care and kindness.
Sue, Will and Ellen Roonedy, 14 June 2019
Thank you So So much for the past Years. You are all the best and I couldn't recommend you enough. Wishing you all the best and Ellas is going to miss you so much.
Sandra, Ella and Ryan Doyle, 14 June 2019
Thanks so much for a great Family day. Today's Graduation was a brilliant show and Anna had a ball!! She has only joined KSH recently but LInda, Ellen and Sonya have made the move so easy. Thank you again for everything!
The Mc Carthy Family, 14 June 2019
What can we say, we were absolutely blown away by today's Graduation Show. The hard work, time and effort that has gone into the show was clear for all to see, Thank you so much for making this such a special experience for us and the children
Sean Daly's family, 26 June 2019
Thank you so much for everything that you guys do for Ivy. You are all truly amazing!!! I can't explain in words how we appreciate everything you've done for Ivy.
Sinead Murphy, June 2019
Thank you so much for all you do! We love all you do, all your amazing work is so obvious in our kids. Keep up you awesome work
Siobhan O'Connor, June 2019
[ Read Testimonials 2019-2020 ] |[ Read Testimonials 2017-2018 ] |[ Read Testimonials 2015-2016 ] | [ Read Testimonials 2014 & before ]